The best place for information regarding Coleman stoves, lanterns and other gas pressured appliances!
Uncle Santa Sidney Claus - Prison Philosopher Says:
"For Christmas this year, try giving less. Start with less attitude. There's more than enough of that in the world as it is – and people will usually just give it back anyway!"

Insert Photos
If your URL is correct, you'll see an image preview here Large images may take a few minutes to appear.
Remember: Using others' images on the web without their permission may be bad manners, or worse, copyright infringement.
(Failed)filename
Unsupported photo file type. Please upload the file as a post attachment instead.
filename strippederror
You need to be logged in to send an email.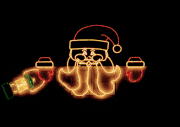 Insert Code
Please paste your code into the box below: